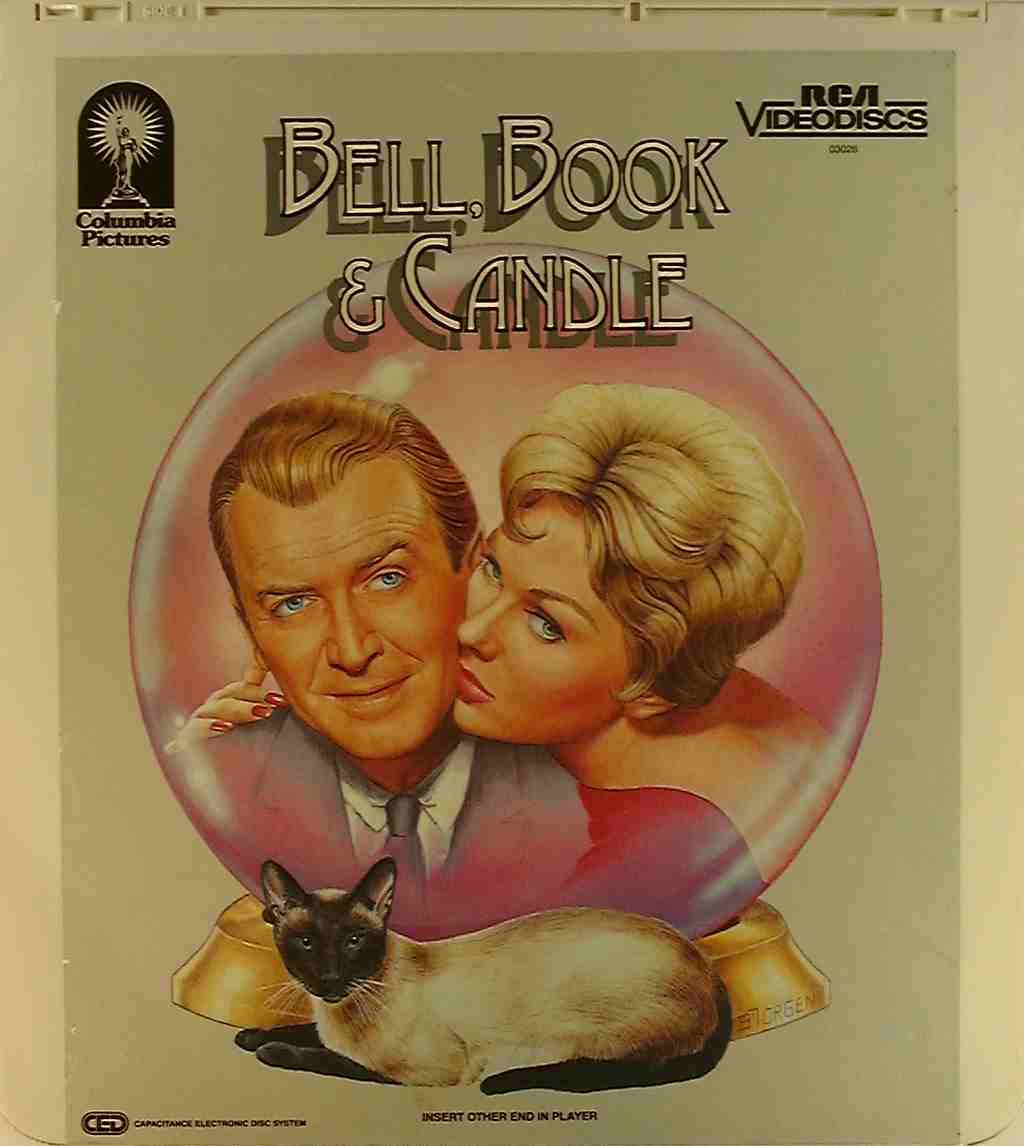 Our new post now up at our Grand Old Movies Wordpress blog looks at the 1958 Columbia production of Bell, Book and Candle, a comedy about witches in New York. Our slant on the film is as a Cat movie—-referring, as lovers of the film know, to Pyewacket, a Siamese cat who's one of the story's major characters. The movie does boast other talented actors—-a cast consisting of James Stewart, Kim Novak, Jack Lemmon, Elsa Lanchester, Ernie Kovacs, and the wonderfully flamboyant Hermione Gingold is certainly nothing to sniff at. But Pyewacket does stand out. Cats may just be natural stars; they seem effortlessly able to command any space they inhabit. Perhaps it's because cats were once worshipped as gods in Egypt; they still expect adoration wherever they go.
But along with being a Cat movie, BB&C is also a film about New York. The movie adaptation opens up the story from its source, a 1950 play by John van Druten, by its use of several actual NYC locations, including the Rockefeller Center ice-skating rink and the top of the Flatiron building. The latter leads to a spectacular shot when Stewart tosses his hat overboard; the camera follows its trajectory down, in a long, unbroken take, all the way to the street. Much of the film's story is also set in the old, pre-gentrification Greenwich Village, which, although it's all a studio recreation, just feels right. A scene in a Bohemian nightclub called The Zodiac, with improv jazz and a French singer declaiming a song (in French) on how boring it is to be dead at the bottom of the sea, has the right drop-dead hipster tone. The dialogue also has a sophisticated flair, which one might imagine would be heard on the metropolitan cocktail circuit. An instance is Stewart explaining to Janice Rule, his soon-to-be-ex-fiancée, that he's not jilting her—-they are merely "uncoupling." And then there's Rule's response when Stewart tells her that Novak is a witch: "You just never learned to spell," she purrs.
Van Druten's play was a Broadway hit, due, no doubt, in large part to its stars, the then-married Lilli Palmer and Rex Harrison. Their roles are taken by Novak and Stewart in the film, and we wonder what shift of tone this change would have occasioned. Although playing New Yorkers, Palmer and Harrison were Europeans, with long experience in the theater; they must have brought, however unconsciously, a worldly, "foreign" sensibility to their interpretations. (As far as we know, no recording exists of the Palmer-Harrison performances.) Novak was born in Illinois, and Stewart was a Pennsylvania native—-solid American stock, raised outside the NYC influence. Although Novak plays her part with a jaded cool and a slight pseudo-British accent (similar to what she used in her immediately prior film, Vertigo, as the wealthy, sophisticated pseudo-Madeleine), Stewart acts with his familiar gosh-shucks stammer; he's clearly no match for the cynically dispassionate witches surrounding him. (According to the IMDB Web site, Cary Grant sought the role that eventually went to Stewart; his casting probably would have brought a different ambiance to the film altogether.)
For cat lovers, BB&C is a purring delight. It's also hysterically funny, especially in scenes involving Ernie Kovacs and Hermione Gingold. These two actors are a contrast in styles: Kovacs is the master of the minimalist aside; Gingold, with her flaming hair and rolling-thunder voice, triumphs with the grand gesture. They bring to the film the kind of theatrical eccentricity that we associate with the marvelous characters actors of Hollywood's golden age, and which is now a lost art. 
Click on the title link above to read our post.